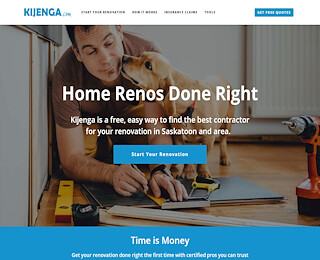 How Kijenga Can help you Find the Best Deck Builders in Saskatoon:
Finding a deck builder can be a difficult process. If you have a deck project on the horizon and you're not looking forward to the process of screening, researching and fielding estimates, Kijenga's website can help you bypass all of the legwork and get your project underway in the quickest, most cost-efficient manner possible. Using the free Kijenga online hub, you simply post your deck project and let Kijenga handle all the details. They'll search through their certified, pre-screened professionals to find the best match to your project and send you estimates to choose from.
It often comes as a surprise to Kijenga's clients to learn that their services are free. While other services may offer a free trial period or a "basic" service for free, and then try to sell you more costly services, Kijenga is always 100% free for homeowners- and their website is loaded with valuable resources, like their impressive blog library, their comprehensive FAQ page that answers many of the most commonly asked questions, and of course, the posting page. Get your project started quickly by posting your job to the hub and let Kijenga connect you with the most reputable deck builders in Saskatoon.
If you can't think of anything easier than using Kijenga, you're absolutely right. They've already done all the work by pre-screening their professionals to ensure your safety and security. All of the contractors on the Kijenga site are licensed and carry the appropriate amount of insurance. Check out your preferred contractor's credentials at any time or view their portfolio before you decide to hire. Explore the Kijenga Marketplace for straightforward jobs to find work vouchers that will save you a lot of money on having your deck built. McGuirk's Carpentry Reno offer a $500 deck/fence voucher for a limited time at the cost of just $250. Take a closer look at the details of this offer or click on any one of the numerous other deals available in the marketplace. If your project is a bit more complex, post the details to the hub and then sit back and relax while Kijenga goes to work to connect the best deck builders in Saskatoon to your project. When estimates start to come in, simply select the one that reflects your project's requirements.
Visit the homeowners' FAQ section to learn more about the process of finding the best contractor in the area for your project. If you decide to purchase a special deal from the Marketplace, the contractor you chose will be in contact within 2 business days to discuss the details of the job. If you aren't satisfied with your initial choice, you're free to request a full refund and keep looking, provided the contractor has not begun work.
Get connected with professional deck builders in Saskatoon and enjoy your beautiful new deck with friends and family. Kijenga can make it happen under budget and on your schedule, with your guaranteed satisfaction as their promise.
Deck Builders Saskatoon
Kijenga Online Business Services
8445453642
2422 Schuyler St, Saskatoon, SK S7M 4W1
View Larger Map